Foodvisor is a French startup that joined the 2018 season of Facebook's Paris-based incubator Startup Garage and their team took part in the Data Innovation Program led by TTC Labs on a 3-month program to improve the design, transparency and control of personal data in digital products.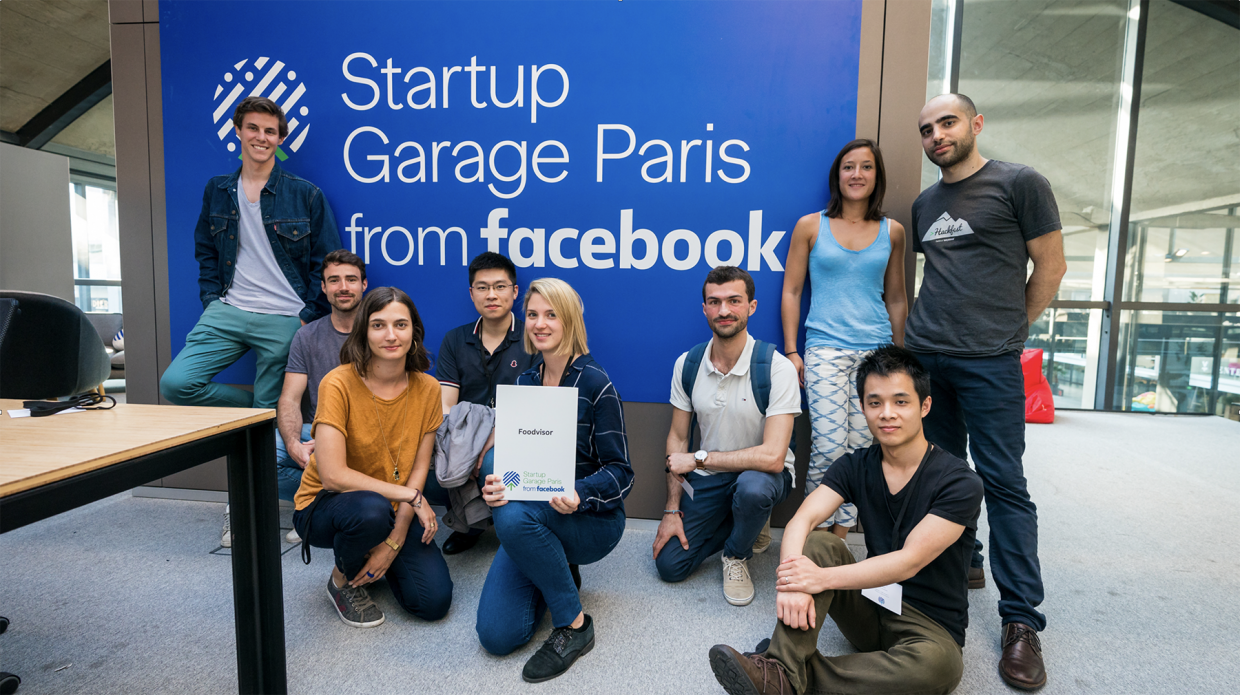 Founded by Charles Boes and Yann Giret, the french company's aim is to help people be healthier - "eat smarter and live better". To achieve this, they created the Foodvisor app, which can recognise food items on a plate, estimate proportions and provide a detailed report of the nutritional value of the meal, all from a photo taken with your smartphone. To help carry out nutritional assessments, the app is stacked full of advice from dietitians, recipes and diet plans, whether people want to lose weight or just rebalance their food intake. Today, the app has almost 1 million users.
The Data Innovation Program: a full circle stream from diagnostics to implementation
The Data Innovation Program at Startup Garage Paris kicked off with a UX Research session, where startups mapped out their product needs for compliance and identified potential growth opportunities. With this in mind, the startups attended Station F's Design Jam, a one-day, multidisciplinary workshop. Participants developed ideas and created prototypes that they later iterated and tested through followup sessions. Some startups decided to work on user profiles, giving them more or less control over personal data management. Others chose to review how they talked about personal data to reassure people of the measures they'd put in place to secure data, no matter how personal.
Foodvisor's Goals Foodvisor chose a very concrete goal: to continue to work on the onboarding experience to address the 7% dropoff rate of people using the app.
By making the bold choice to prioritize changing their product to improve the engagement metric, they had the time and resources to drill down into the details and design a new way of welcoming people at the start of their journey on the service. For over a month, the Foodvisor team focused on the user experience of onboarding and identified relevant screens for giving informed consent for data sharing.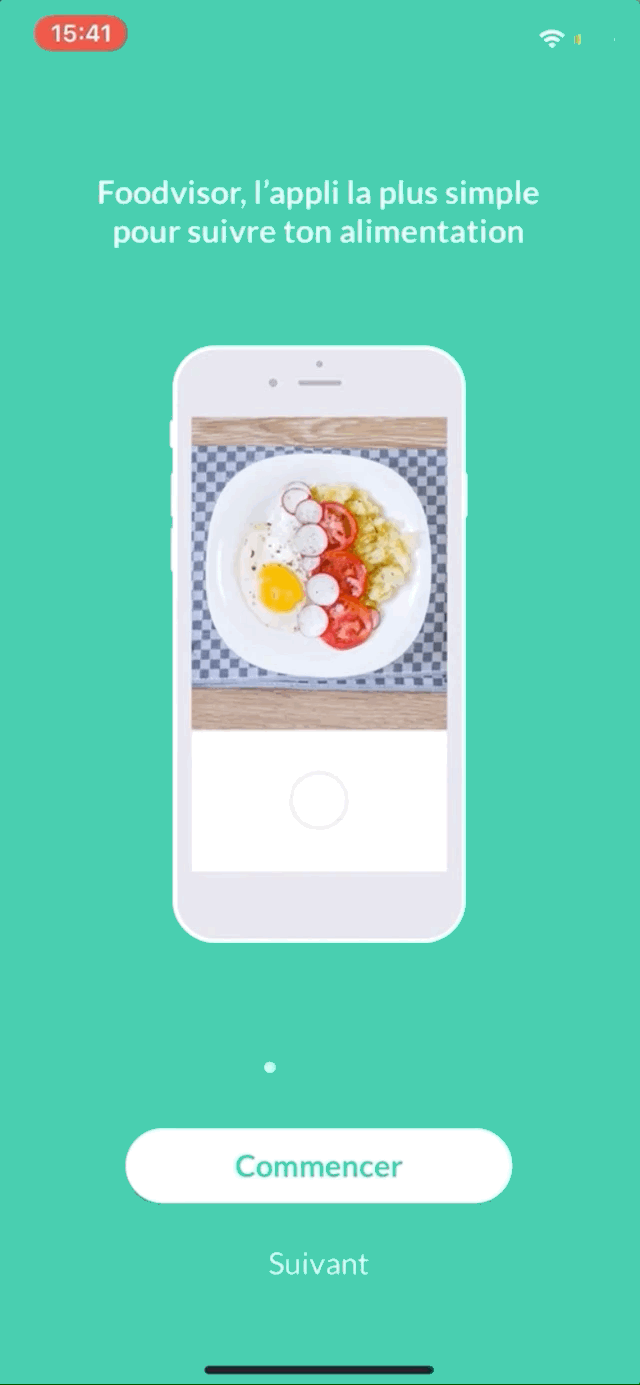 The Design Jam: lifting up the startup's design process
Foodvisor came to the September 2018 Design Jam with the aim of redesigning the onboarding experience for its app. During the Design Jams they explored new ways to rethink different aspects of their products that were closely related to the sharing and use of personal data. Until that point, the screens allowing people to give informed consent for this purpose had posed real problems in terms of the European GDPR regulation on data protection, which came into force on May 25, 2018.
Before the Jam
The challenge for Foodvisor was to reduce drop-off during onboarding from 7% and to increase the acceptance rate of the T&Cs (Terms and Conditions of use) from 36% at the time. 2 text-heavy screens didn't provide people with clarity about how the data they shared was being used and managed by Foodvisor.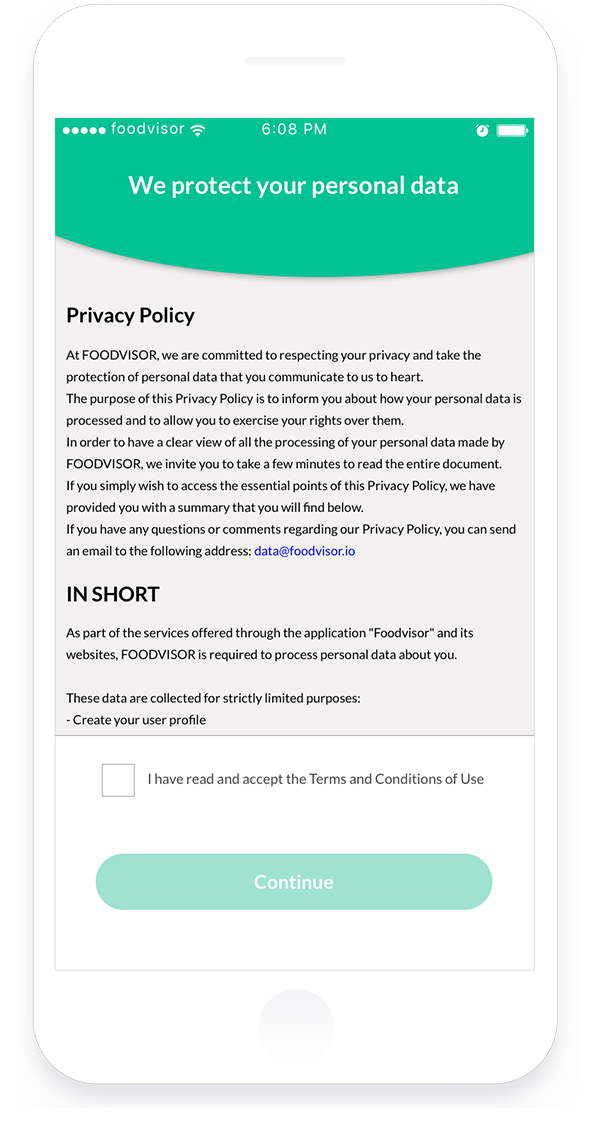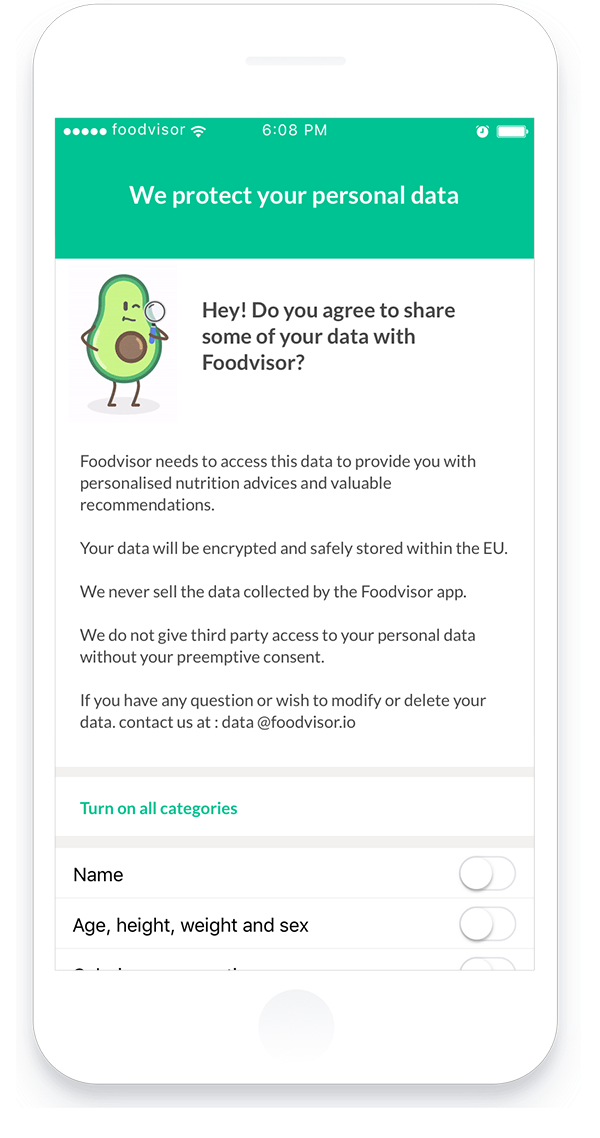 During the Jam
By working with the designers at the Jam, the onboarding process was redesigned to focus on Foodvisor's use of personal data, the exact data collected and why Foodvisor needs it.
They used storytelling to explain the features people would have access to if they shared data with Foodvisor, increasing transparency and showing people the value they gain by sharing their personal information.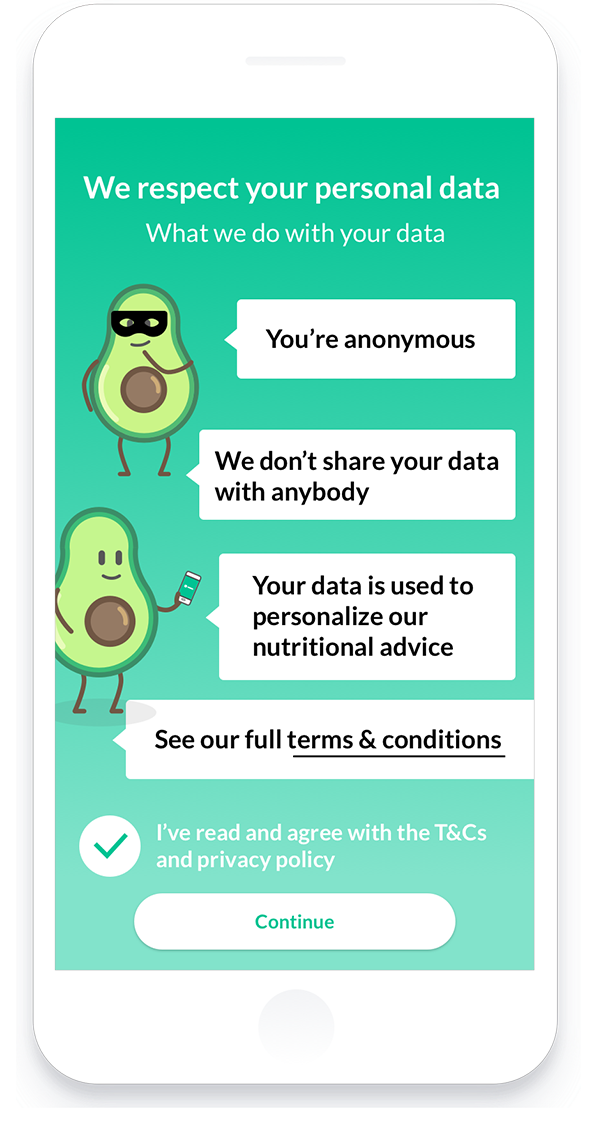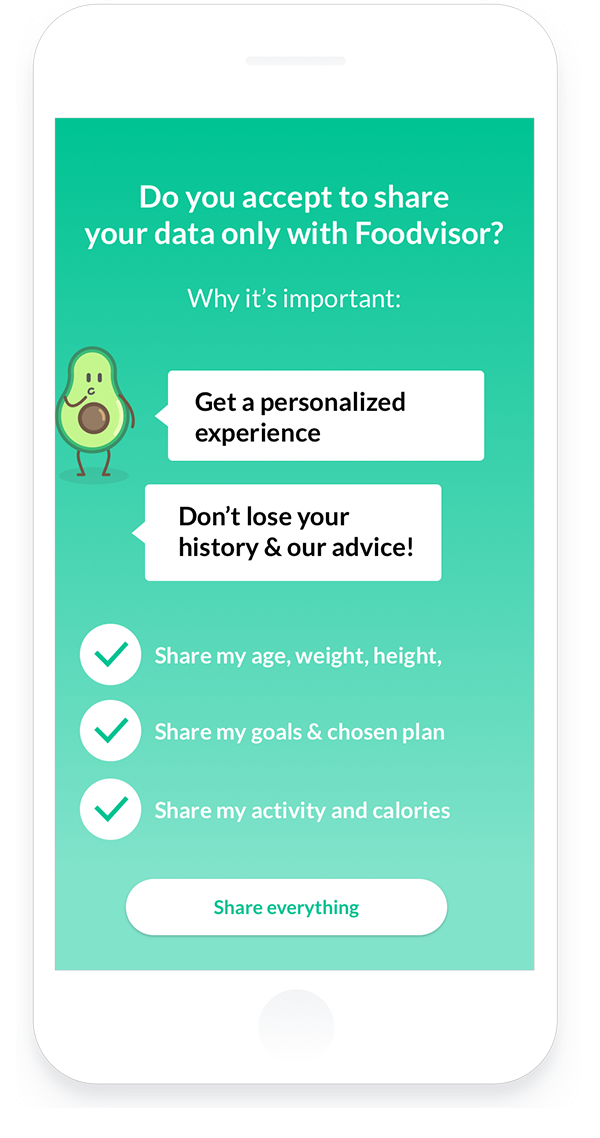 The followup sessions: testing and iteration
Informed Consent: less is more
The consent screen changed a great deal after the Jam. Building on their initial idea to talk directly to people, Foodvisor developed a more human tone and illustrations to communicate information around personal data. In order to ensure transparency by avoiding cognitive overload, Foodvisor worked on multiple layouts – from cartoon style to minimalist visuals, looking for the right balance between text and images. Lightweight visual cues combined with plain text made it easier and more engaging to read, reducing the mental effort required for people to understand what they were being asked to do. and why
Data sharing
Granular controls
The new personal data sharing screen makes it easier for people to understand the benefits of sharing different types of personal information. The text changes based on the person's choices, demonstrating the value of a personalized approach to features and controls.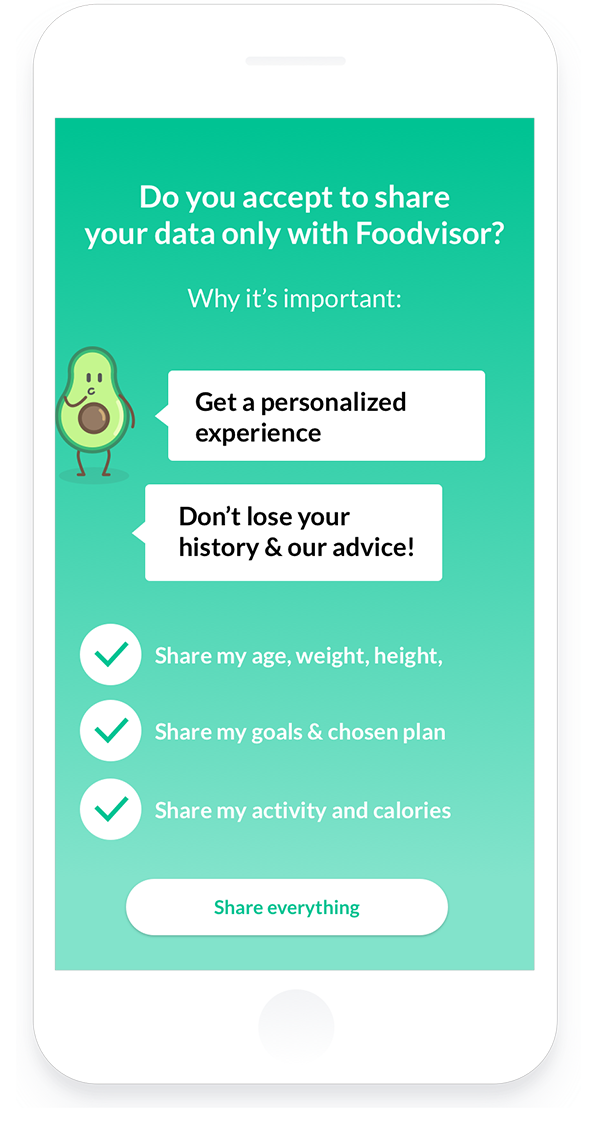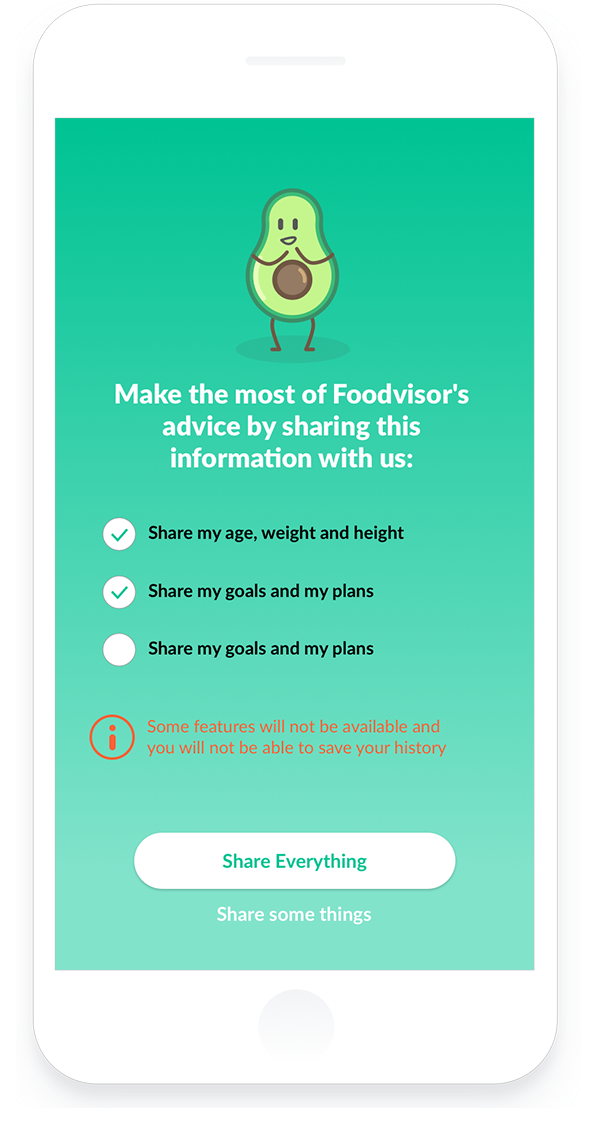 Transparent visual patterns
Button design and states also help to indicate to people how much of their personal information is being shared. This is all done with the continued aim of ensuring that people really understand what data they are allowing the startup to access. Foodvisor is investing in transparency by making sure consent doesn't just comply with the requirements of the GDPR, but that it is genuinely informed consent.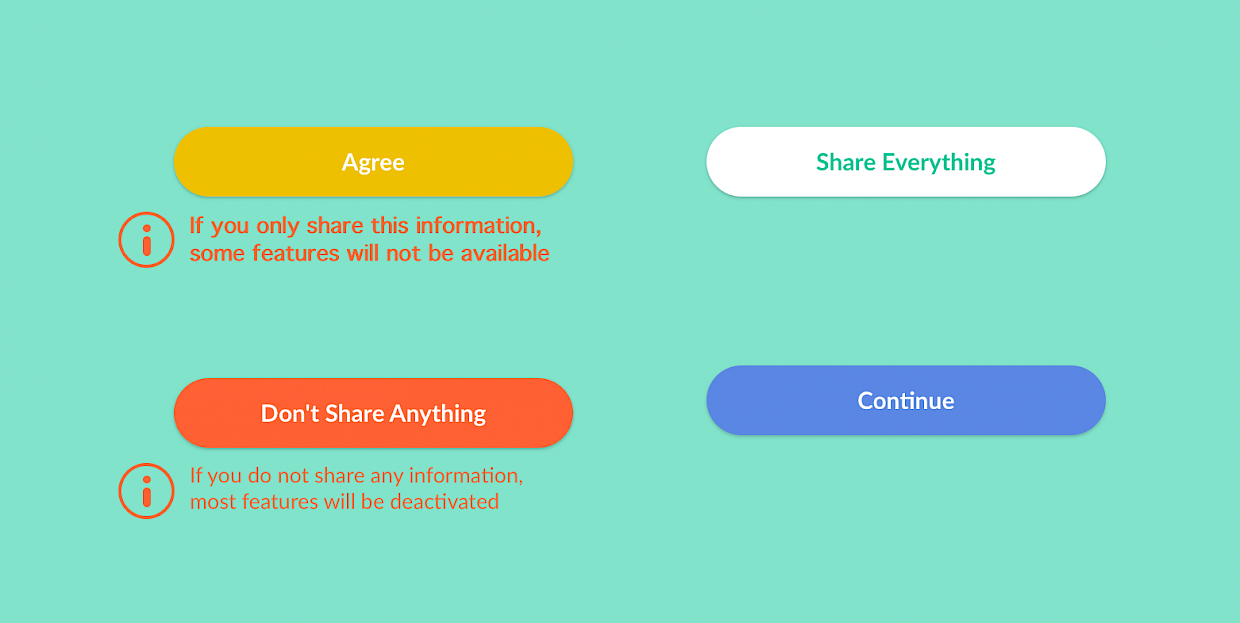 Product development: one screen makes a difference
During the design and testing process, Foodvisor decided to group the 2 screens related to data sharing and informed consent into a single screen.
"We realize that you need to find the perfect mid-point between having a good user flow and explain why you are collecting this data from them. 95% of our users are not actively concerned about sharing their data. So this 95% should have a good flow and not drop out of the experience because of our user consent step. For the 5% that are concerned about data sharing, you have to be very straightforward about how and why you are using it in your application to make the user experience better. [...] The main challenge is to keep a very good user flow while being honest about what data you are requesting and why you are using it. Balancing these two will be the main challenge for designers in the years to come." – Charles Boes, CEO of Foodvisor – Facebook Startup Garage Season 2
1. Make Messages Clear
To make data sharing easier for people, Foodvisor is reworking the phrasing of user-facing messages in order to avoid any implications, queries or fears, and to enable people to really understand what data they are sharing. Understanding is improved by giving people a genuine opportunity to choose whether they want to share their data or not.
2. Take Control of Interactions
Foodvisor is taking control of interactions with people during onboarding by refocusing them around people's needs so that the app can offer its personalized recommendations, based on the realisation that it doesn't need to ask so many questions. Since the app has already asked people their age, height and weight, it doesn't need to ask users if they give their permission for Foodvisor to use this data again. The goal here is to make the user experience as smooth as possible.
3. Encourage Engagement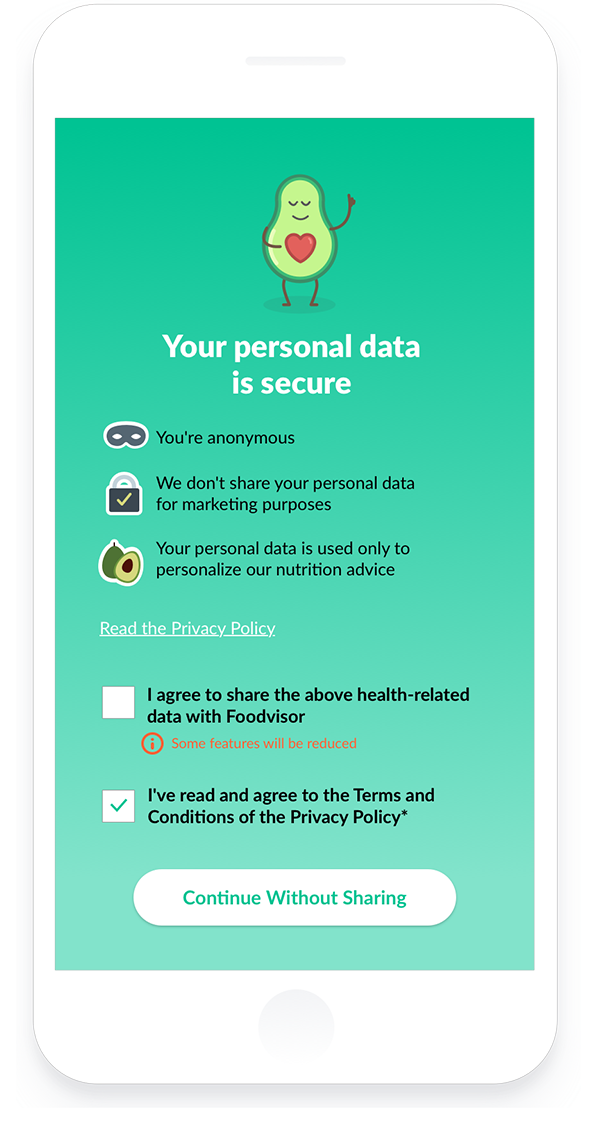 Following user tests, Foodvisor analyzed whether the lack of user engagement in data sharing could be explained by the choice of interface components used by the person when sharing their data. One of the learnings from the tests was that rounded checkboxes weren't easy enough to understand and didn't make people feel that they could take any action. Square checkboxes seem more appropriate for sharing because they are more commonly used and indicate a list of things they can control. In order to achieve their goals of reducing the dropoff rate and increasing the acceptance rate for the T&Cs while offering informed consent, Foodvisor simplified the user experience by focusing its efforts on a single screen that is more reassuring and easier to understand.
6 months later: strong product impact
Having revised the onboarding experience, Foodvisor closed the Data Innovation Program at Startup Garage with impactful KPIs, notably achieving a 3X higher conversion rate, reducing the dropoff rate from 7% to below 2% and seeing a 15% increase in retention rate after 7 days of using the Foodvisor app.
In the next 6 months, Foodvisor's goal is to continue to improve its product by continuing to iterate design and testing, with the goal of achieving an 80% accept rate for the T&Cs at the point of onboarding, which was previously at 36% before the start of the Data Innovation Program.
No matter what resources are available, designing a less restrictive, clearer experience gives businesses a chance to highlight their value proposition and brand image. Establishing a well-founded trust relationship can offer a competitive advantage to any business. By redesigning key product aspects around data, services can improve user experience and engagement while at the same time respecting people's choices around data sharing and use.