In order for people to trust the apps and websites they use every day, they have to feel both informed about the choices available to them regarding their data and empowered to make those choices. Which is why it's important for the designers of online apps and services to focus not only on what they disclose to their audience about their data use practices, but also when that information is disclosed in the first place. Our third Lens - "Leveraging Context In Design" explores this concept and provides some useful frameworks and models for UX designers who want to experiment with using context in their flows.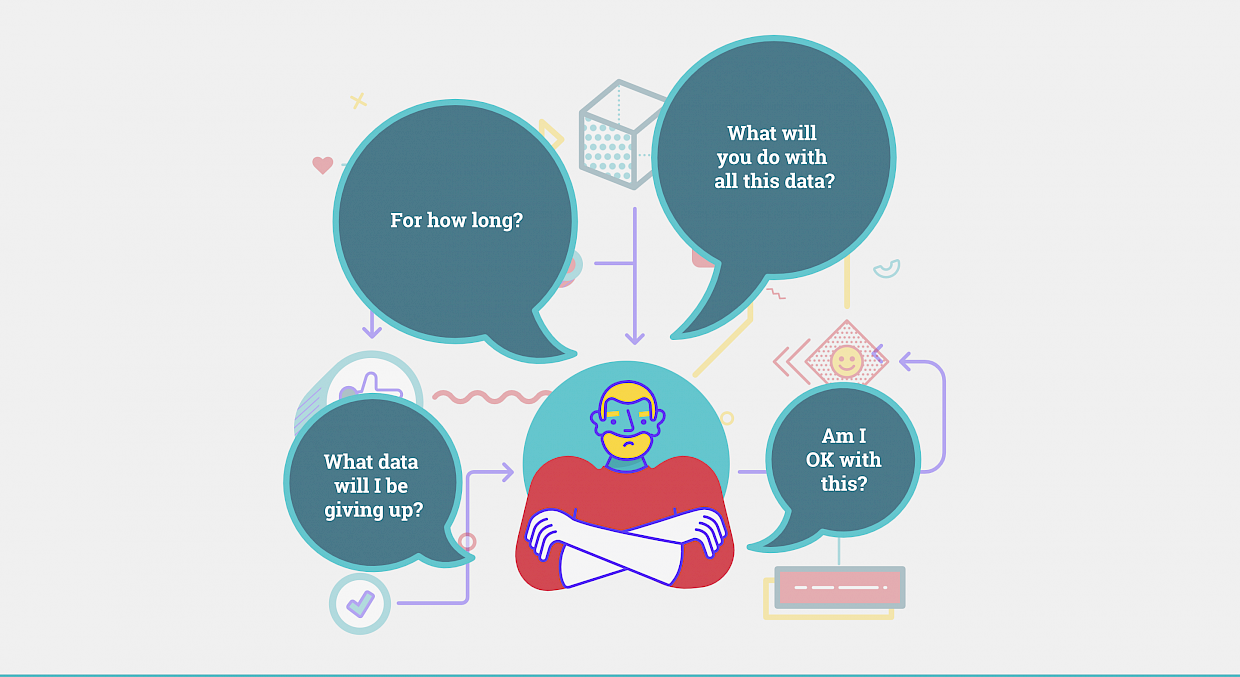 We've identified three different ways in which digital services generally present data use disclosures: up-front, on-demand, and in-context. Each has their own use and value, depending on the circumstances.
Say you've just downloaded a weather app. The app will likely ask you to immediately agree or disagree to their privacy disclosure as part of their Terms and Conditions. This is an up-front data disclosure, and while it may be practical for the developer to obtain a consent upfront, it tends to overload the new user with information. A settings menu is a type of on-demand data disclosure. This method may be more practical, but can also present challenges if the user doesn't fully understand the options available to them in the menu.
In-context data disclosures, by contrast, makes disclosures simpler to understand and easier to access by embedding privacy data disclosures when they become relevant to the action the user wants to take - it means giving the user "the right information, at the right time." Let's use a restaurant recommendation app as an example. When first downloading the app, you use your zip code to find a popular local restaurant, and then want to use the map feature to see how far the restaurant is from your apartment. After you click on the map, a notification pops up letting you know that this feature is powered by your location data, and if you want to use it, you will have to allow sharing of your location with the app. Ideally the notification should be written in short, simple sentences, should let the user know how their location data is stored, for how long, and how they can delete it or turn-off location sharing in the future.
Because in-context disclosures, such as these, are more accessible and easier to understand than the legalese found in most Terms of Service, we can confidently know what we're agreeing to and how it will affect our in-app experience. Learn more about how to implement in-context data disclosures in our newest lens, "Leveraging Context in Design."
We hope that our lenses continue to guide the conversation for policymakers, designers, and experts around the world. Take a look at our other lenses in this series: "Designing Transparency for All" and "Educating People About Data". Also view the Facebook White Paper on people-centered and accountable design for more information on how Facebook is innovating privacy through design.