In December 2019, India redefined the ownership of personal data with the introduction of The Personal Data Protection Bill. India became one of the world's first legislators to define the rights individuals have over their personal data, and the responsibilities of entities accessing user data. The Future of Data Sharing Design Jam was aimed at understanding the principles for data sharing within this Indian context and using them to build better user experience in Fintech products, in particular, on integrating Account Aggregators (AA) to solve business and people problems. Read more below.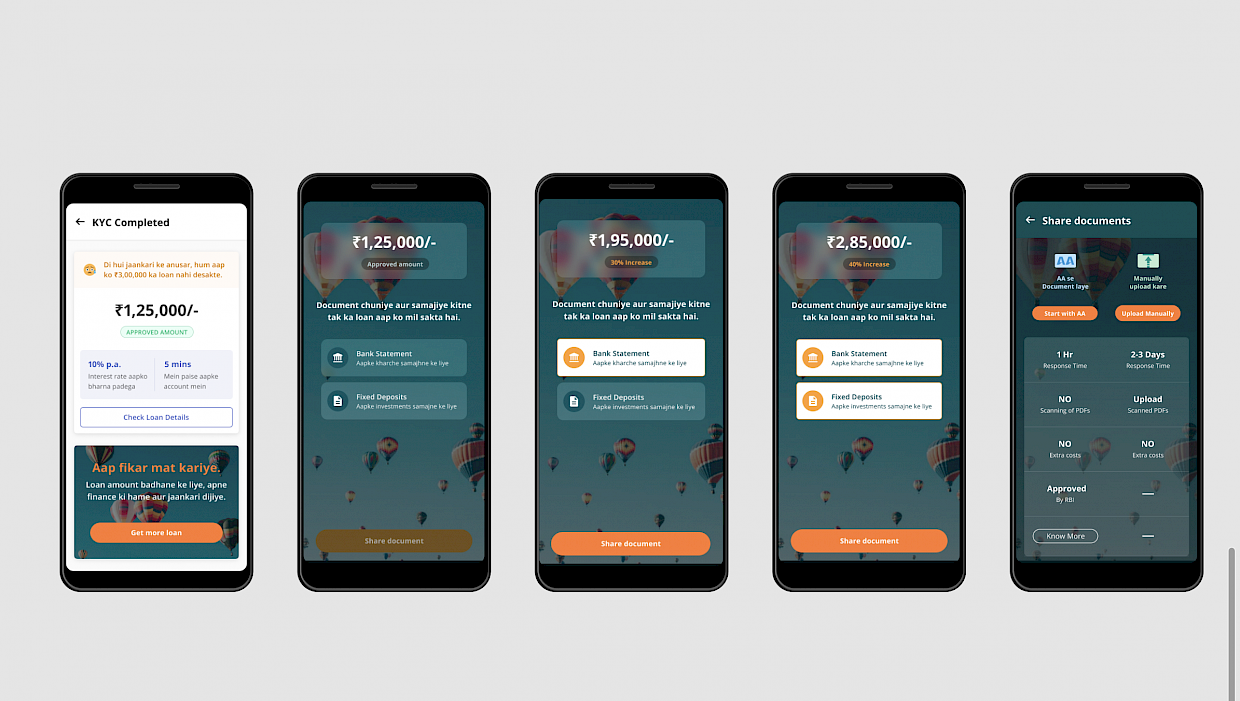 We partnered with D91 Labs, an open source initiative towards financial inclusion in India, to conduct research in this space. The Jam was facilitated by our partners at Parallel, a product design and innovation agency in India. We also partnered with Digital India Collective for Empowerment (DICE) to provide policy mentoring to the teams and Sahamati to provide guidance on the Account Aggregator ecosystem.
The Challenge How can we reimagine data sharing in financial services using Account Aggregators while instilling trust and confidence in a new and secure way of sharing financial data?
Account Aggregator (AA) is a framework that creates a well-defined and secure mode for users to share their personal financial data with other eligible entities. Within that framework is a robust consent system that allows users to pick and choose the type of data they share, and the entities who can access this data. AA holds the promise of better borrowing terms, particularly for the new to credit borrower segments; banks and lenders who gain access to rich data for underwriting loans and monitoring the borrower's financial health.
Who Participated? There was a mix of people from Academia (NID, BITS, Srishti) and Fintech companies like Scripbox, Razorpay, Savemo, EarlySalary, Rupeek and Groww. We also had some folks from YLT Fellowship, Trilegal and Perfios AA which brought different perspectives to their respective team and resulted in a wide variety of ideas being discussed and debated.
What Happened? The participants were then split into nine teams and were given a Product Brief to understand the fictional app they would be working on, along with a Persona for whom they had to design for. These fictional products and personas were created based on the research done by D91 Labs and mimicked real-world scenarios. The apps that the teams worked on were:
Instamoney - A digital lending app that lends personal loans up to Rs. 5 lakhs to users.

EMI Monk - A consumer durable lending app that allows individuals to purchase products online with credit up to Rs. 5 lakhs.

Moneybox - An investment platform that recommends targeted mutual funds based on a customer's financial profile.

Oink - A personal expense management app that helps users budget and keep track of their spending.

Cashlend - A digital cash flow-based lending app aimed at small and medium businesses.
Some of the stimulating HMWs that emerged included:
• HMW offer AA as an alternative way of sharing information and communicating the value exchange?
• HMW help the user manage their consents (allow, revoke, view) over a period of time?
• HMW enable self-serve onboarding using Account Aggregators?
The teams worked independently over the next couple of days to develop the ideas generated during the Jam and convert them into a digital prototype. During this time, each team was provided design and policy mentoring. The design mentoring was done by Kishore Kumar from Google Pay, and the policy mentoring was provided by various legal firms that work with top tech companies in India.
Saranya Gopinath, Co-Founder of DICE, anchored a policy track, which saw mentors from law firms and think-tanks provide one-on-one feedback to each of the teams. The mentorship process sought to give feedback on the prototypes and to sensitise the teams on core policy principles, such as privacy, consent and education. The process also helped guide thinking that would nudge the teams and mentors to contemplate industry best practices in creating such designs. The following conversations served as an educational experience for both!
In addition, we also had an AMA (Ask Me Anything) session with BG Mahesh, founder and CEO of Sahamati, to answer their questions regarding AAs.These mentoring sessions helped teams get valuable feedback halfway through the jam and hone their designs in the right direction.
The teams got to present their ideas during the Showcase event on the 16 October - which was open to the public - and we had attendees from various financial institutions in India. It was great to see some really good ideas that came out of the Jam in such a short time.
What Next?
The teams who participated in the Jam will continue to work on their solutions, and we plan to continue UX testing on these so that we can get a better understanding of what really works for users. We will write-up the results and publish these on the TTC Labs website over the coming weeks.