I always wondered if there was a way to organise a new kind of workshop, with a focus and pace, that could generate meaningful and shareable outputs in a single day.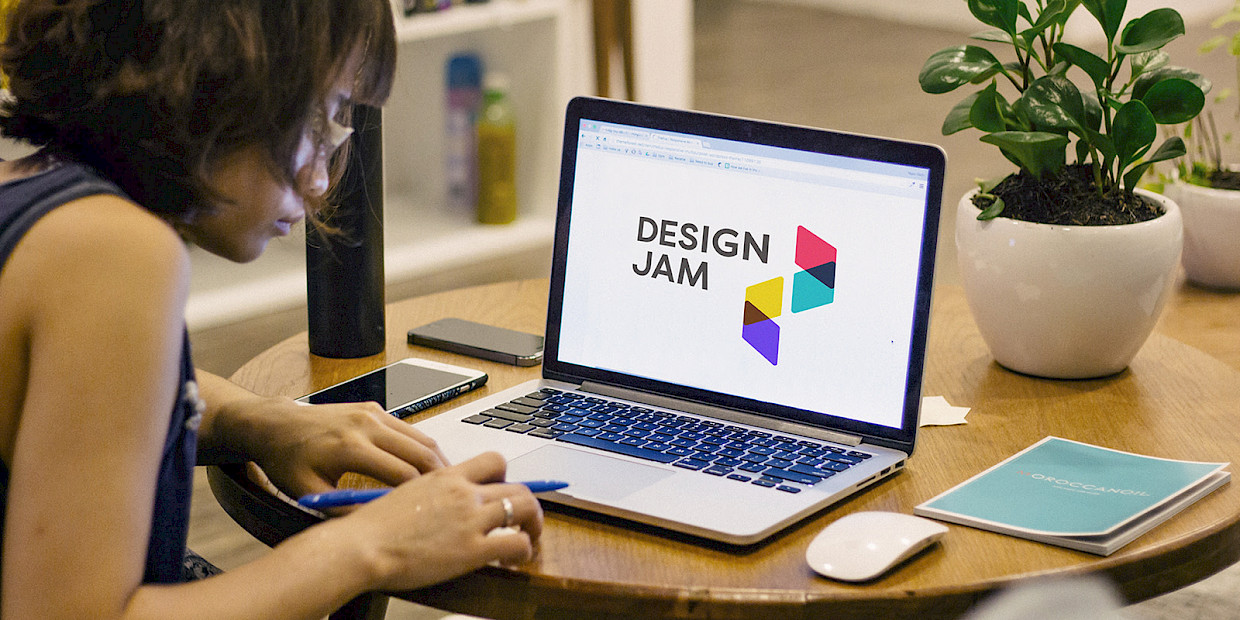 I first began running and attending design thinking workshops during my time at Google in 2008. Infused by leadership previously from IDEO, a global design consultancy, these multi-day workshops started to happen when we wanted to explore broad ideas with a large group of colleagues from different teams. We often left the workshops with exciting directional concepts that teams could choose to pursue or leave - which made the workshops exciting and fun - but we never got as far as digital prototypes that we could take action upon.
Jake Knapp, a former colleague of mine, also noticed this trend and began to re-think design workshops to be more action oriented. His response was to write a book - Sprint: How To Solve Big Problems and Test New Ideas in Just Five Days - and since then design sprinting has become the mainstay for many product development teams globally, including at Facebook.
Today, the so called 'Double Diamond' method pioneered by the UK's Design Council is probably the most well known design thinking model but there are equally notable variations from IDEO, Stanford University's d.school, Google Ventures and more.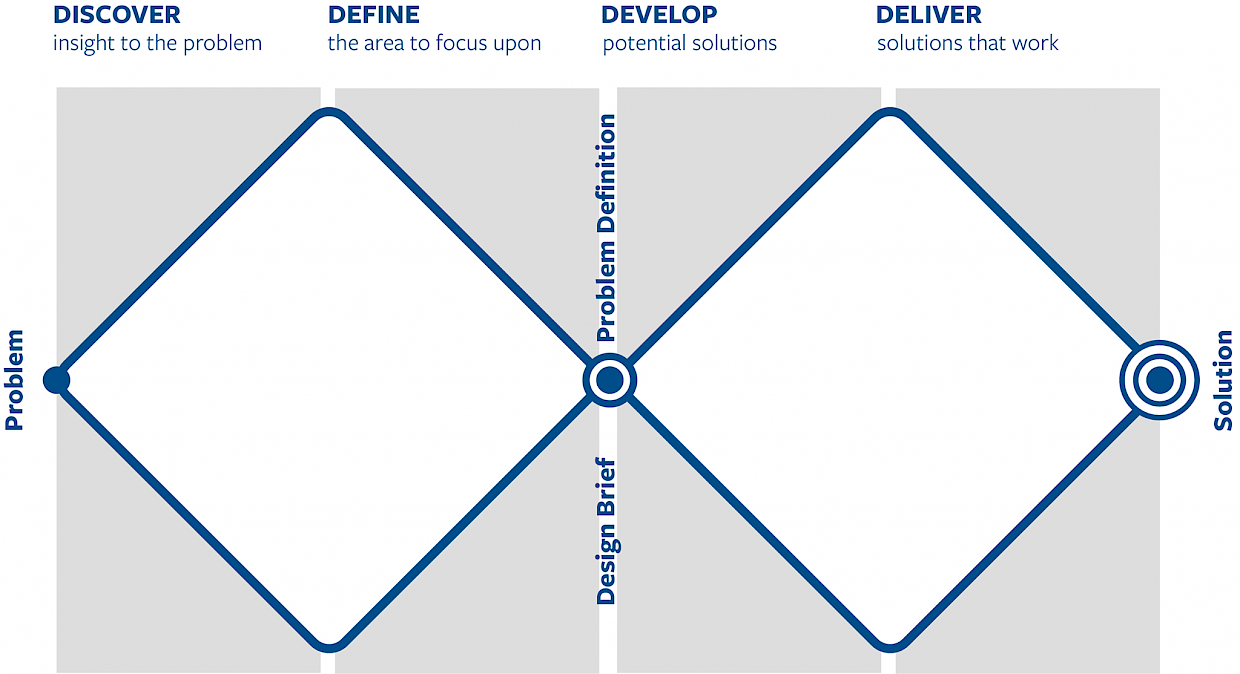 I always wondered, however, if there was a way to organise a new kind of workshop, with a focus and pace, that could generate meaningful and shareable outputs in a single day.
At Facebook, we began partnering with others to run design thinking workshops around the globe to explore themes around trust, transparency and control. At these Design Jams, we brought together people from different teams and disciplines across Facebook, along with internal and external lawyers, service and UI designers, as well as industry peers, policymakers, academics and data regulators. We recognised that every company, from large platforms like Facebook to the smallest startups, needed to innovate to provide trust, transparency and control to people. Working together as an industry could bring greater change across the internet to have 'all boats rise with the tide.'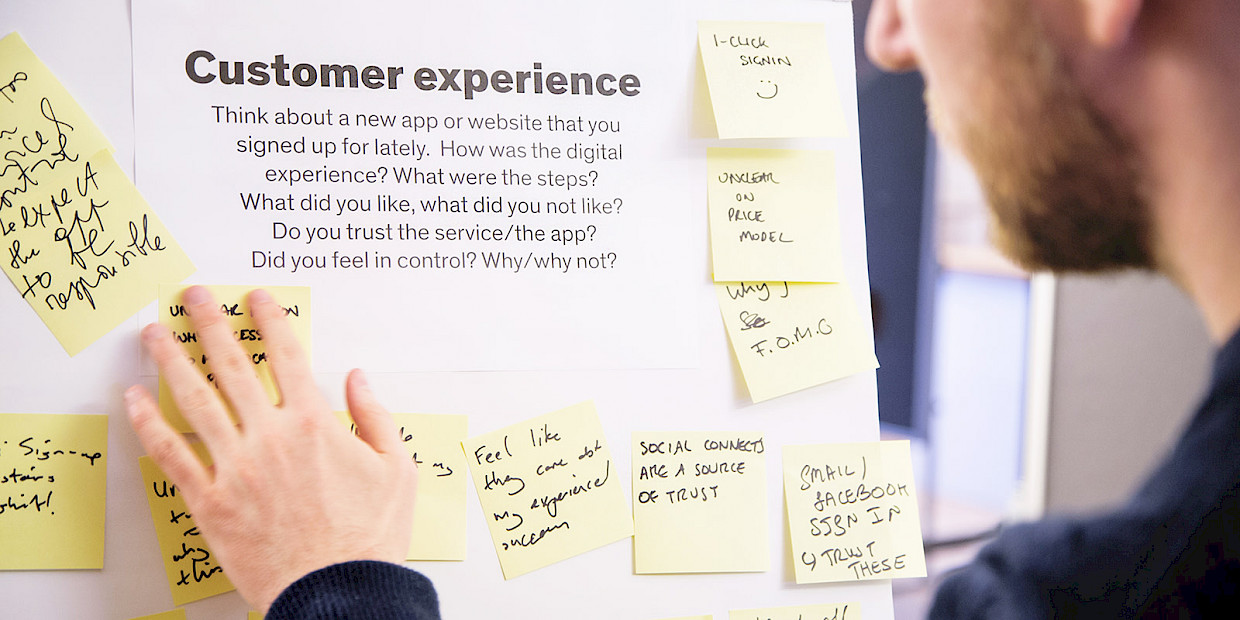 Berlin Design Jam | March 2017
We started our pilot Design Jam program in March 2017 in Berlin and while the first three day workshop was a useful way of introducing more people to design thinking, it didn't quite get to the level of creating clear outputs for new user experience patterns and templates that could be used, replicated, or built upon by others.
Since then, we've honed our Design Jam format to become a packed, fast-paced, one-day event where we rapidly move through the four core foundations of design thinking to generate hi-fidelity real-world prototypes.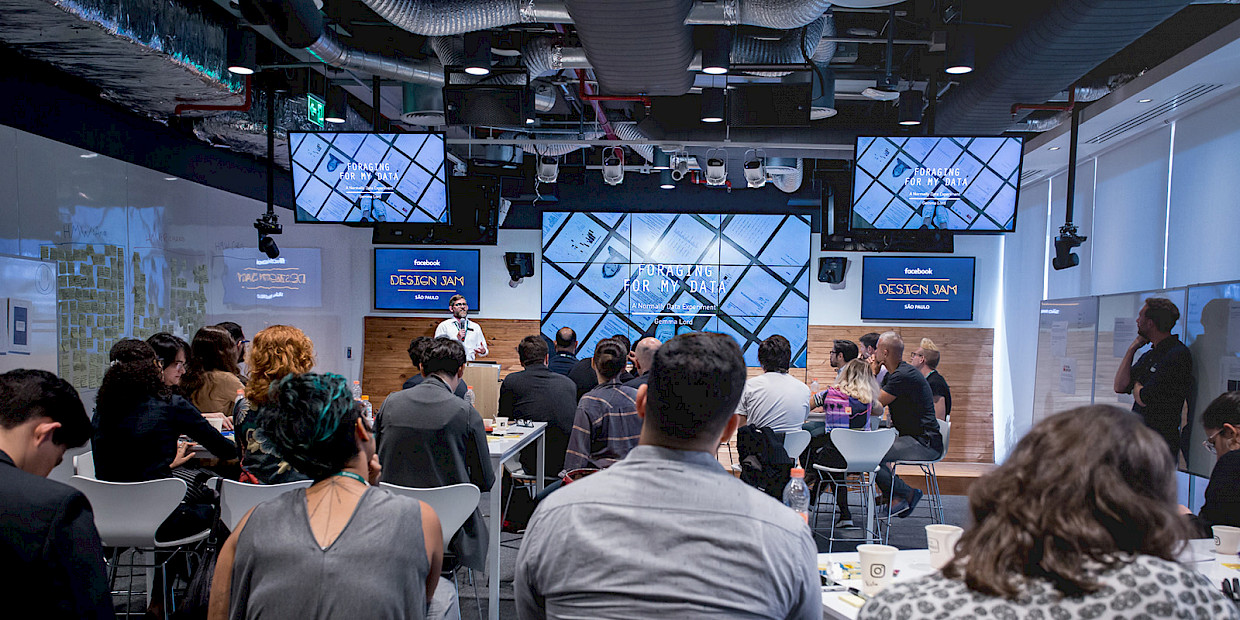 Discover | São Paulo Design Jam | August 2017
Discover We invite subject matter experts to bring their perspectives around the topic (e.g. Transparency, Consent, Cookies...) to the participants as specialized technical or legal guidance, personal experience or academic exploration so that attendees can understand the topic in fresh ways and gather initial insights before embarking on design work. We also introduce some basic elements of design at this time from peer critique, content strategy, personas and data use cases to give everyone a language of design that can be utilised throughout the day.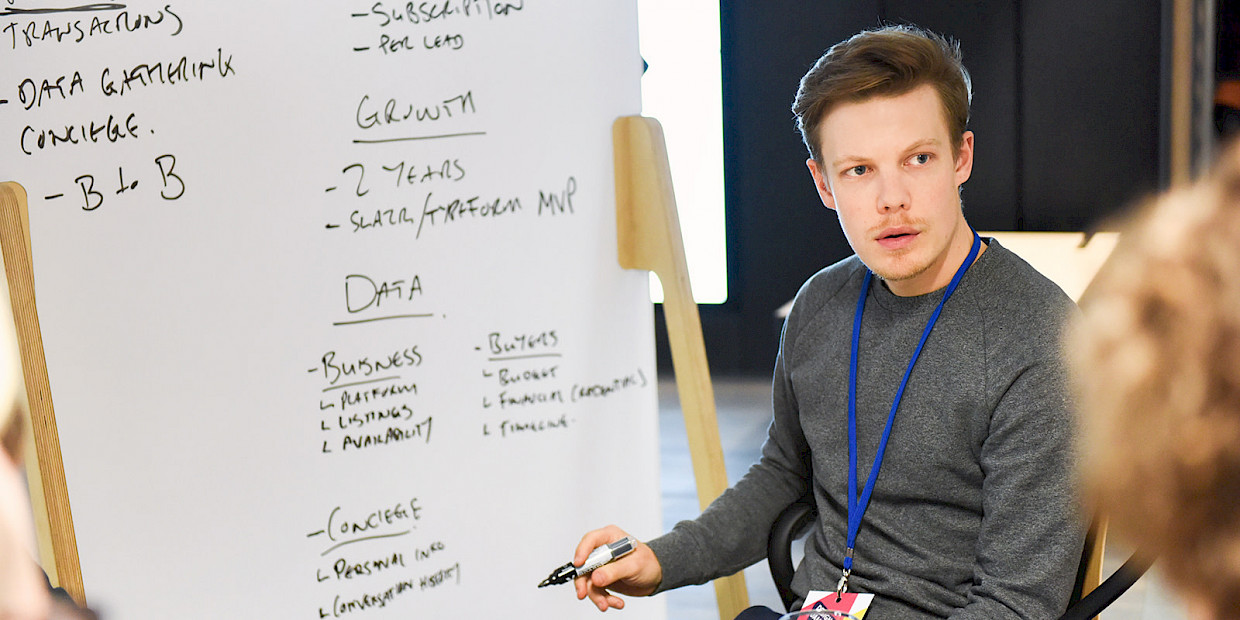 Define | Dublin Design Jam | November 2017
Define We invite teams to begin to make sense of all the possibilities identified in the Discovery phase by leading them through the creation of a challenge statement to frame the 'people problem' they wish to tackle. We then lead them through a series of divergent/convergent brainstorming exercises to help them think big before making decisions based on technical feasibility, user desirability and business viability.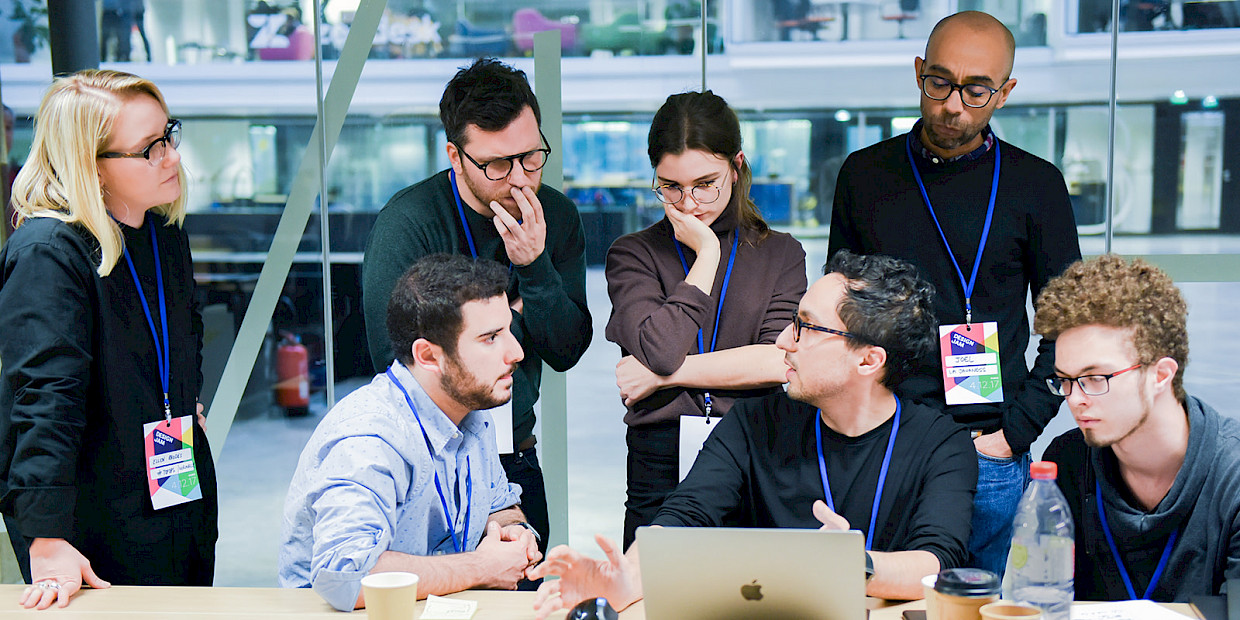 Develop | Paris Design Jam | December 2017
Develop The teams create initial solutions in the form of paper sketches and digital prototypes which are critiqued by other teams. This allows for input from other experts in the room to refine the designs or help teams choose a direction.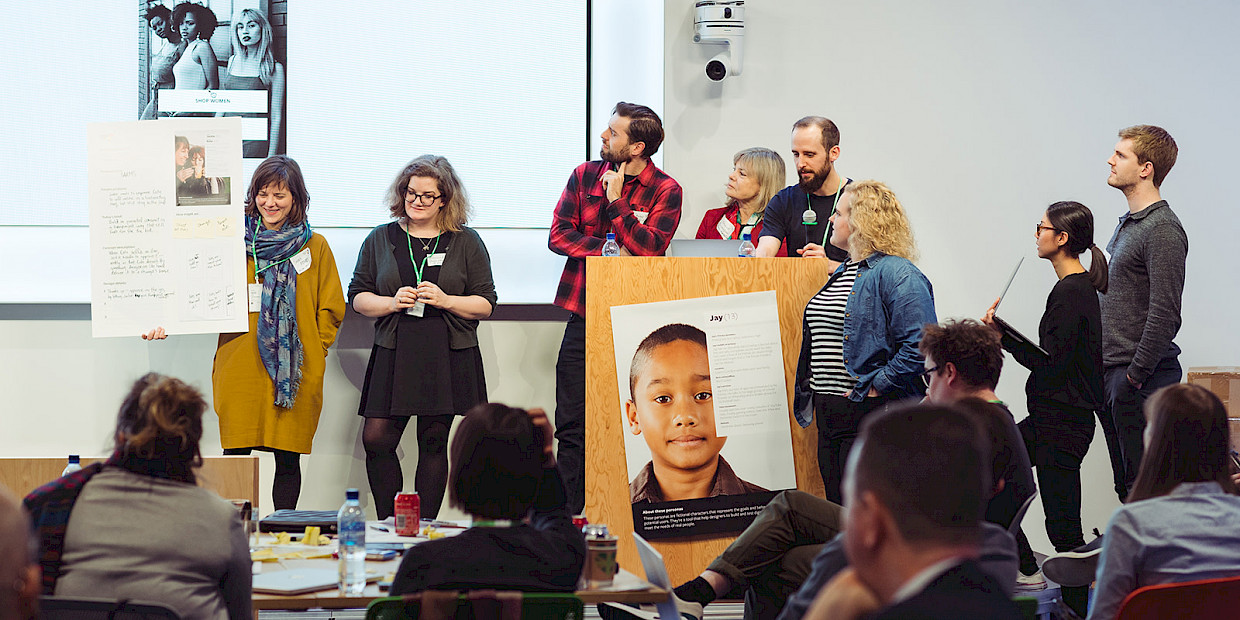 Team Garms presents their prototype | London Design Jam | February 2018
Deliver In the Design Jams, we don't create launch ready products, however, the prototypes outputs from the Jam are shared at the event and can be further refined by teams at a later date - which has been the case when working with startups on their own products. We are also making outputs from the workshops available on our TTC Labs website to share them more widely and continue the conversation.
We have many more Design Jams planned for the future, and we're excited that we've found a replicable way to make a single day workshop with both focus and pace that generates meaningful and shareable outputs. Getting to prototypes in a day is a hugely powerful in showing how much is possible with little time, and how much easier it should be to get creative about design.
As we continue with the Design Jams, we also want to hear from you. Are these 1-day outputs useful as a starting point? What should we do differently? Let's get the conversation started.
The views expressed in this article reflect those of the author. TTC Labs seeks to include a diverse range of perspectives and expert insight to encourage a constructive exchange of ideas.